Russia Abandons Moldovan Clients, Will Deal With New Pro-Western Government (Part 1)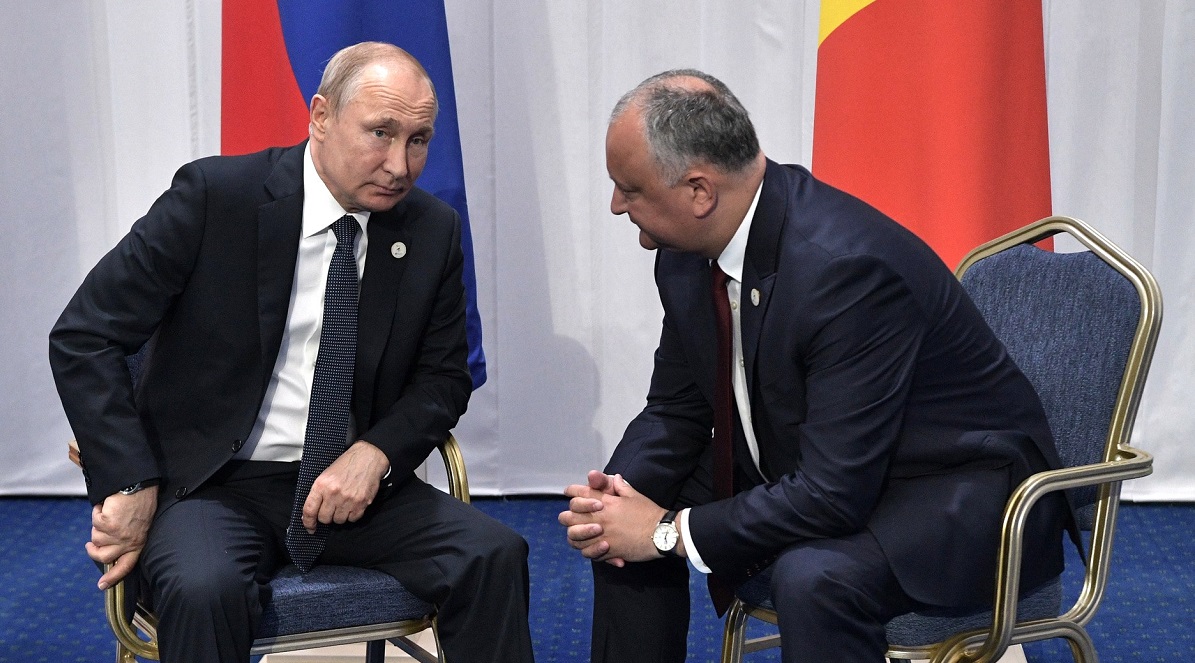 Russia has done next to nothing to help Igor Dodon's Socialist Party and other Russophile forces in the recent parliamentary elections in Moldova. The Kremlin and its propaganda apparatus were silent; and the Russian government offered no economic aid or promises to the socialist-backed Moldovan government during the election campaign. The Western-oriented opposition concentrated in the Action and Solidarity Party (PAS) soared to win the elections in a tidal wave (see EDM, July 8, 9, 13).
Moscow's attitude of non-intervention marks the last step in its gradual abandonment of the Dodon socialists and other local Russophile groups. Russia went from a token embrace on Dodon at the start of his presidential term (2016-2018) to a short-term rescue of the Socialist Party when the government changed hands in 2019 (see EDM, June 21, 26, 27 2019), to benign neglect in the 2020 presidential election, which Dodon lost to PAS leader Maia Sandu, and to outright abandonment in the 2021 legislative elections.
In response to the PAS's victory, Russian Foreign Ministry spokeswoman Maria Zakharova said: "We confirm our willingness to cooperate on several levels with the new parliament and the new government" (TASS, July 12, 2021 ). Last November, Russian President Vladimir Putin congratulated the newly elected President Sandu in the same vein: "I am counting on your presidency to make possible the constructive development of relations between our countries" (TASS, November 16, 2020). Such statements are not expressions of optimism let alone confidence, but simply cautious overtures. They naturally follow Moscow's disengagement from Dodon and his Socialist Party.
During these two campaigns, Russia withheld all the forms of support that Dodo had anticipated (sometimes publicly) and requested from Moscow: meetings with President Putin, religious events with Patriarch Kirill of the Russian Orthodox Church (to which a overwhelming majority of Moldovans officially belong), favorable coverage on Kremlin-controlled TV channels (popular in Moldova) or Russian business forums that will be held in Chisinau for political effect. Instead, all Moscow offered during this election campaign was a humanitarian allocation of 180,000 doses of Sputnik vaccine (of which 40,000 were reserved for Transnistria) and an opportunity to sell more doses commercially to Moldova (TASS, July 2nd).
Russia had previously been stingy with the Socialist-backed government in the 2020 Moldovan presidential elections. Although it responded to the government's request for a loan of 500 million euros ($ 650 million), Moscow attached conditions that prompted Moldova's Constitutional Court to strike down the loan deal. Other than that, all Moscow offered was 20,000 tonnes of diesel fuel as humanitarian aid for Moldovan farmers and five snow-clearing machines for the city hall run by socialists in Chisinau (see EDM, November 18, 2020).
The Kremlin has never invested in a network of civil society groups under its control in Moldova. Such projects could have proved to be effective, given the generally open and friendly attitudes towards Russia among many Moldovans. But Moscow has chosen not to use these instruments to influence Moldova's domestic politics. Russian Ambassador to Chisinau, Oleg Vasnetsov, has kept a clean profile during both election campaigns. Dodon and his Socialist Party have been content with third-rate Russian political consultants in 2020 (see EDM, May 19, 2021) and, apparently, none in 2021.
If Russia had seriously intended to lead Dodon and his socialists to victory or at least a draw, it could have mobilized hundreds of thousands of Moldovan migrant workers in Russia and residents of Transnistria to vote. Consequently. Dodon alluded nostalgically to nearly half a million voters in Russia and Transnistria (combined) who could have turned the elections upside down if they were mobilized (TASS, June 18). Instead, only 6,000 voted in Russia, and only 29,000 from Transnistria made it to these parliamentary elections. The corresponding numbers were 12,000 and 31,000 respectively in the 2020 presidential election. While the Moldovan diaspora in the West tipped the scales decisively each time, Russia made no attempt to compensate or mitigate this factor by bringing together these categories of Russophile voters.
Moscow's restraint is explained by the disappointment of Dodon and his socialists (circumstantial factor) and limited Russian interests with moderate ambitions in Moldova (structural factor with potential long-term consequences).
Dodon's initial embrace by the Kremlin, ostentatious as it was, had in fact been reluctant. President Putin's relations at the time with the leaders of Ukraine, Belarus, Georgia, Armenia and Azerbaijan ranged from hostile to cold to suspicious. Dodon was the only post-Soviet president at the time to show submission to the Kremlin (in keeping with Dodon's own electorate), and he was allowed to far outperform all post-Soviet leaders in terms of meetings. bilateral with Putin. But Moldova continued to occupy a middle position among Russia's foreign policy priorities. And Dodon's performance disappointed Moscow every moment: he entered into a humiliating and subordinate relationship with Vladimir Plahotniuc, then ruler of Moldova; failed to lead the Socialist Party to victory in the 2019 parliamentary elections despite his pre-election assurances in Moscow; angered the Kremlin in 2019-2021 by entering into a parliamentary coalition with the relics of Plahotniuc and the party of Ilan Shor (who is wanted in Russia for criminal investigation); lost the 2020 presidential election; brought his Socialist Party into an electoral bloc with the wrecked Communist Party of former President Vladimir Voronin (dishonored in Moscow); and leads the Socialists to a crushing defeat in the legislative elections which have just taken place.
From Moscow's point of view, therefore, Dodon turned out to be an uncharismatic and incompetent leader, then an outdated asset; and his Socialist Party, an archaic organization and a repeated loser, is now likely to shrink to a niche role. Russia has no other partners in Moldova and is therefore willing to explore a modus vivendi with the winners of the elections, who now hold full state power in the country (presidency, parliamentary majority and new government).
Russia's interests in Moldova are limited and its "moderate" goals, although even these "moderate" goals could, if achieved, cause serious harm to Moldova. From a geopolitical point of view, in the wider East European-Black Sea-South Caucasus region, Moldova is clearly the least interesting country for Russia. The concerns of the Kremlin in Moldova focus on: maintaining Transnistria, sustaining Moldova's neutrality, slowing Moldova's European price (which is about to restart) and controlling a minority stake with potential blocking powers in the Moldovan political system. The latter goal has already been overturned by the result of the recent elections.