Top two clash as Dundalk hosts Hoops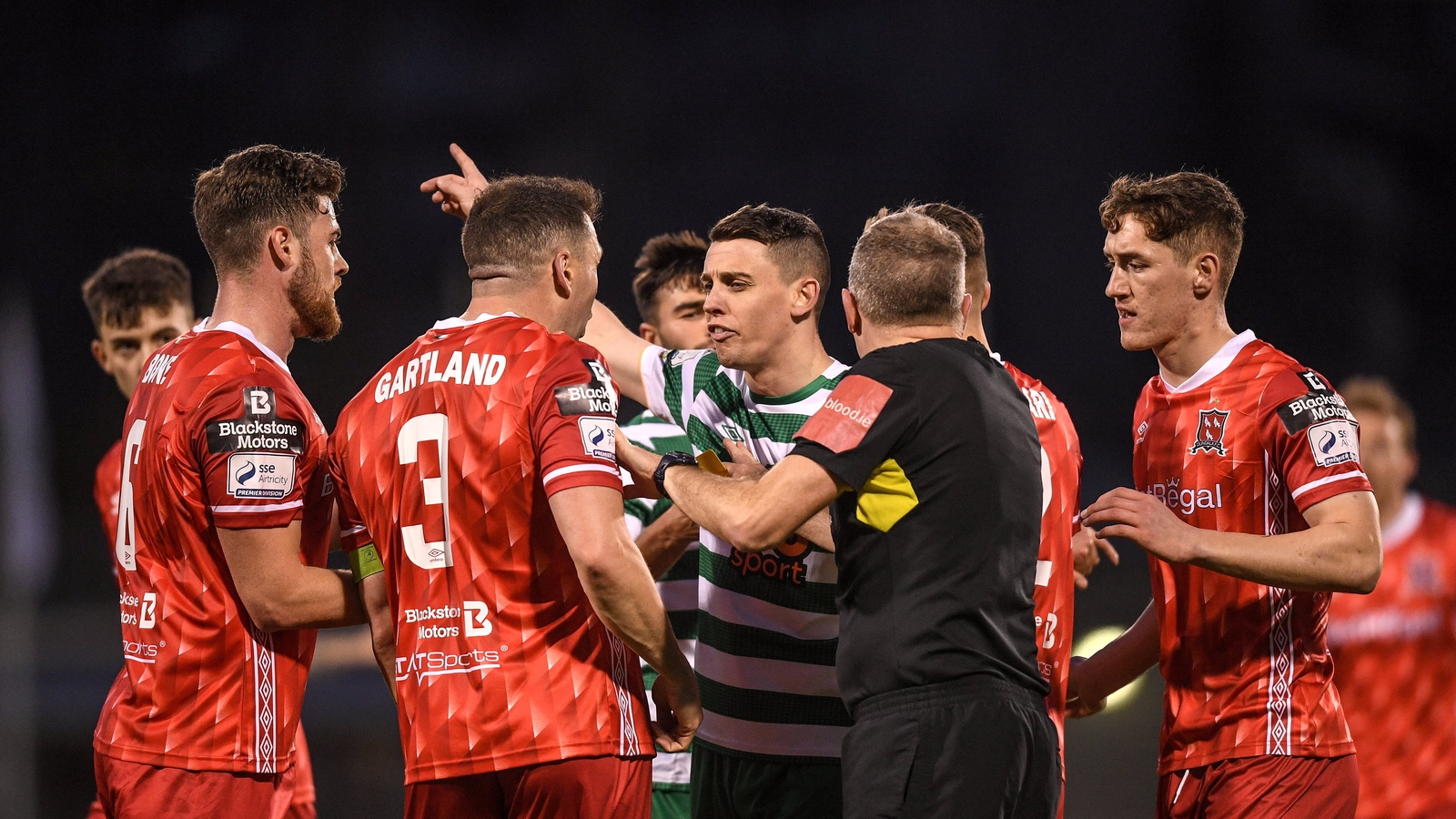 After a three-week break, the SSE Airtricity League Premier Division returns with a top-two clash on Friday night.
The international window and interval period allowed for such a long period without matches.
It was certainly necessary for players with some teams playing up to 10 games in the space of five weeks in the race for games to be played before the European window.
These draws have taken place over the week bringing excitement, some disappointment and a wave of optimism for the likes of Shamrock Rovers and Sligo Rovers.
Nevertheless, attention will return to domestic affairs. It would have been hard to believe that the first set of games came to the conclusion that Dundalk would be the team in line to challenge the Hoops at the top of the table.
Stephen O'Donnell's side have a wonderful home record, mixed with an average defense, and they have continually added to the points tally.
They will be absent from Europe this year, but already have a place for 2023 in their sights. When the teams around them turn their attention to Tuesday and Thursday nights, the Lilywhites will have another opportunity to add to their advantage.
Whether they can challenge Shamrock Rovers seems unlikely based on squad depth first and foremost.
Secondly, tonight will be decisive. Victory for Bradley's men would increase their lead at the top to 11 points and that will be nearly impossible to close by the end of the campaign.
It's a concern for the rest of the season that the title race may be over before it even feels like it's started.
Derry City had time to regroup during the break. It was necessary after a period of very uneven results, including a loss to Sligo and a home draw with Finn Harps.
It's a challenge for Ruaidhri Higgins, who has struggled with serious injuries this campaign and is arguably ahead of his targets. Derry was fading before the break as the results showed. Ambitions are high among the fans given their strong start and they will be keen to come back on a high note at home against Drogheda United.
Keith Long has delivered on his promise to add to the Bohs squad with three players joining the squad since their last game. Long was another boss keeping his mind clear and refocusing his squad after the heavy defeat to St Pat's and a home draw with Drogheda.
Tonight Dalymount will be pumped up as neighbors Shelbourne travel for a sold-out clash.
Damien Duff's men are in contention for a first half or a European finish if they maintain their good form. They will move up to fifth with a win in this game.
Finally, St Patrick's Athletic are at home against UCD tonight. The Saints will see it as a chance to gain ground on the sides over them, particularly if Dundalk are to drop points at home to Shamrock Rovers. As recent games have shown, anything is possible, so Pat knows they can't let College into the game.
Dundalk v Shamrock Rovers, Oriel Park, 7:45 p.m.
Shamrock Rovers are in such a strong position for the stage of the season, so although it is a vital period of a front-two clash and a Dublin derby next week, it there is no major pressure on their league results in the short term.
Indeed, with their Champions League campaign looming, facing some of their toughest fixtures will now be a welcome development.
For Dundalk, it's a chance to test their progress so far in the league, having come close in two games against the Hoops without recording a win.
Stephen O'Donnell will serve a sideline ban and keep his powder dry heading into this clash.
"Ultimately everyone reacts to what you do on the pitch, so your actions are more important than talking about things," he said.
"That's what we focus on. If we came fifth or sixth but the work ethic was really good and we did things right and we didn't get the green snag, nothing would change with us and nothing would change with us, no matter what our position in the league.
"Train well, apply yourself and work hard for each other; that's what we focus on. Everything else is just noise. We only care about our actions and we'll see where that will lead us.
"How we play, from an enforcement point of view, will determine where we end up at the end of the season, not what we say in interviews."
Nathan Shepperd and Joe Adams are available after returning from international duty with the Wales Under-21 side while Brian Gartland is closing in on a return after missing the last four games with a foot injury. The game could sell out.
In the away dugout, Stephen Bradley isn't shocked to see Dundalk as the team behind them in the table.
He added: "They're a good team, and we've known that from the first round of games. They have a very experienced backbone in the team, players who have won leagues.
"It's no surprise at all where they are in the league, we expect them to be there at the end of the season, so we know it's going to be a tough game and we have to be there. our level to get the three points."
Bohemians v Shelbourne, Dalymount Park, 7:45 p.m.
Shelbourne are one point ahead of the Bohemians entering this derby at Dalymount Park, a measure of the progress made by Damien Duff's side as well as the struggles of the Bohemians.
The best for the Bohs came in the last clash between the sides, a 4-1 win at Tolka Park, and the worst for the Shels.
Damien Duff's side have learned from these defeats that they are in a very healthy position in the standings.
JJ Lunney signed a new contract at Drumcondra this week, and as the Bohs wait until July 1 to be able to play their recent new signing, there are three very important points to offer in the short term.
Shelbourne boss Damien Duff said there was "no better game" to come back to when the season resumes.
Duff said the break came "at the right time and the wrong time" as the Reds welcome bodies for the second half of the season.
"We had a mini pre-season if you will, so the guys are ready to go back," he said.
"Guys know it's a derby so there are always those things to exploit, but we'll be ready to go," he added.
Shelbourne will be without Sean Boyd by suspension after racking up a number of yellow cards in the first half of the season.
The Reds, however, welcome back Brian McManus and Adam Thomas as part of the squad selection after their recent injuries while Sean McSweeney is almost fully fit after missing the first half of the season.
"We are now halfway through the season and I would like to think the fans can relate to the team now. They have been amazing for us and the guys have understood that with some amazing nights so far. "Duff said.
"All we do is be inclusive for the fans, the club, the staff and the players and we've built that unity. So we're good to go," he added.
Lewis Webb and Jordan McEneff have both ended their loan spells.
Derry City v Drogheda United, Ryan McBride Brandywell Stadium, 7.45pm
Drogheda United have been dealt a blow this week as loanee Sam Long and Sean Roughan have returned to parent club Lincoln City.
The duo have been a key part of their sold out season so far. Kevin Doherty will go in search of replacements to join in July.
In the meantime, they face the trip to confront Derry.
Doherty's side have recorded wins over Finn Harps and Shamrock Rovers and a draw with Bohemians in their last three games, so an out-and-out Candystripes won't be afraid.
Derry boss Ruaidhri Higgins believes a disruption in momentum could help his team.
"The break probably came at a bad time for them because they were on a really good run," he said.
"They will be determined to pick up where they left off three weeks ago, so we have to be ready for that."
"The free time gave us the opportunity to get rid of some injuries, and Cameron Dummigan and Patrick McEleney are now ready to go, which is great news for us.
"It was good to have a short break but we were back quite early and the boys got back to their schedules very quickly.
"We look forward to getting back to work on Friday ahead of what looks to be a very busy second half of the season."
As Dummigan and McEleney return, Ronan Boyce will have a late fitness test for the home team.
St Patrick's Athletic v UCD, Richmond Park, 7.45pm
The Saints learned of their European fate yesterday in the UEFA Europa Conference League qualifying draw in Switzerland.
They will face a trip to Moldova or Slovenia in the second qualifying round.
With those games five and six weeks away, Pat's has plenty of time to gain confidence in the meantime.
They will see this as a perfect opportunity after already pocketing six points against College.
The students enter the game at the bottom of the table, with a victory in their first 18 games. They have drawn six games and lost 11 games so far in their debut season in the Premier Division.
Before the summer break, they held Sligo Rovers to a 1-1 draw. Should they manage to secure a second victory of the campaign, Andy Myler's side would move up to ninth place at the expense of Finn Harps.
Jamie Lennon is back in full training for Pat's after recovering from a broken foot while Paddy Barrett has also returned to the training ground as he recovers from surgery.
Adam Murphy and Ronan Coughlan (both with hamstrings) will miss the game.
Saints assistant boss Jon Daly said: "It was nice to have a little break where you can actually let the guys off the hook, recharge the batteries and then focus on the next half of the season.
"I think it's been really good for them and it's also been really good to give injured guys some time to come back.
"Having watched their last game before the break against Sligo I thought they were very good, especially in the second half. I thought they pushed Sligo all the way and they were probably unhappy not to come out with three points from the game, so we know.
"Like most games in the league, if we're not there, and we're not moving the ball quickly and playing the tempo, we're causing ourselves problems, so it's important that we play the game as much as possible in their half and seize our opportunities in the game when they arise."