Welcoming workers from afar | Boothbay Registry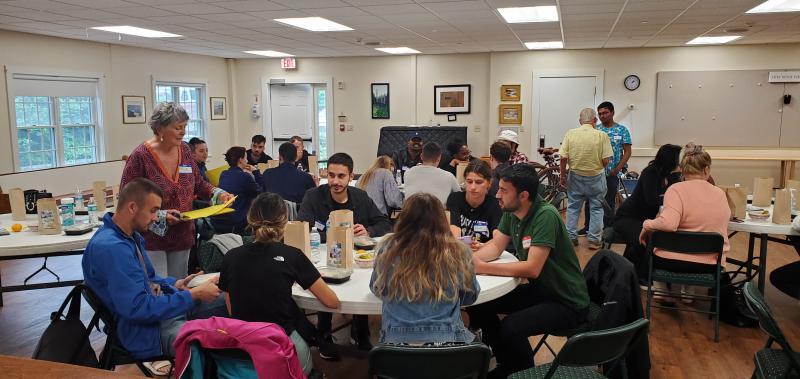 Where else on the peninsula would you see five young foreigners in a church laughing and talking in Turkish with a 96-year-old parishioner, exchanging contacts and planning a return visit?
With love, Boothbay Harbor Congregational Church welcomed over 186 foreign workers who traveled from other countries and the United States to work in our community on June 27th. This long tradition continues to "welcome strangers" and provide them with community support information to make their stay safer and more enjoyable.
Thirty-seven (37) of these 186 people were able to attend the church to enjoy a "lunch and learn". The others received gift bags from the church which were hand-delivered to 149 workers by the mission committee.
At the "lunch meet", this shy and reluctant group of 37 people quickly transformed into an optimistic and hopeful group of workers who got to know each other and made plans to socialize together. We, the Mission Committee, also learned a lot about each of their original houses, their aspirations and their fears.
There were workers from Russia, Serbia, Romania, India, Moldova, Albania, Croatia, Turkey and Montenegro as well as Texas, Maine, Washington, DC, Silver Spring, of Maryland and Kansas.
Along with a delicious take-out lunch on site, they heard from our Pastor, Police Department; Rotary and our city's resources. They appreciated learning to feel safe here and to use our local services. This event included Rotary bikes for loan with a $100 deposit.
For those who could not attend, we distributed gifts to the 145 workers of the participating companies with information gifts and fun food. Almost every company that hires these people participated and expressed their appreciation for the event.
The workers were interested in having fun together in their free time and agreed to share their contact details with each other. They asked us to organize a second event in September so that they could learn from each other's experiences. A medical student has asked to participate in a local community project and will be invited to our next mission committee meeting.
Special thanks to all the companies that chose to participate and especially Hannaford who donated a large amount of food.